buddycloud presenting at the Realtime Conference:...
The Realtime conference goes from strength to strength and we're excited to be invited to present there. If you build amazing services on the internet you really want to get there. The conference is a smaller, more intimate gathering of experts and that means that there are limited tickets. To join us, get your's at http://realtimeconf.eu/ Date check: APRIL 22, 23 2013 LYON, FRANCE
4 tags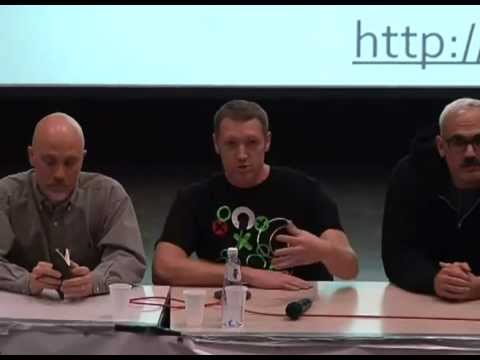 The buddycloud FOSDEM release
Today, just in time for FOSDEM, we're announcing version 0.9 of the buddycloud webclient and updates to all the buddycloud components. And everything is nicely packaged at downloads.buddycloud.com This release also includes new releases of the  buddycloud http API buddycloud server buddycloud media server buddycloud pusher We're be demoing the new software at FOSDEM and ready to...
Easily Upload Pictures and Video Into Your...
From the buddycloud department of extreme-alphaware: Abmar threw together a quick Android upload intent that will post to your channel. Nothing more, nothing less. To try it out, check out: http://dl.dropbox.com/u/65800395/buddycloud.apk  I'll be using it at FOSDEM to keep the pictures flowing.
3 tags
buddycloud Debian Packages Built Nightly
Along with the rapid updates on Github, we have started doing nightly builds of Debian packages for all buddycloud software. Our goal is to make installing buddycloud as easy as possible. Good packages also mean that updating your buddycloud server is pain-free.  The current packages are designed for Ubuntu 12.04 and Debian Sid. Packages are generated nightly using the buddycloud build...
buddycloud team at FOSDEM
In just over a week some of the world's best software developers will be attending the FOSDEM conference in Brussels. FOSDEM is the world's largest open source conference brings together developers from around the world that are working on projects like Postgres, Mozilla, and… buddycloud. This year buddycloud is part of the Realtime Lounge: We will be presenting and demoing...
Running buddycloud on Firefox OS
or buddycloud ❤ Firefox OS Mozilla invited three of the buddycloud team to a Firefox OS developer event in London. Their aim is to get buddycloud working on the world's newest mobile OS. And in time to be showcased at Mobile World Congress. The first day was spent covering what Firefox OS could do, the second spent hacking on porting the buddycloud webclient to and installable Firefox...
buddycloud Now Running on 60 Different Domains
I'm really excited to announce that buddycloud is now running on 60 different domains. It's a huge achievement and we see more and more sites installing their own buddycloud site. Where do the stats come from? The buddycloud crawler runs every few minutes and crawls public channels for followers and then crawls these domains or subdomains. From this regular crawling we have a fairly...
buddycloud dev-preview released
Today we're releasing a dev-preview of buddycloud and would love your feedback. buddycloud is an extensible open source distributed social network. A user's identity looks like user@domain.com and users share content in "channels". We started buddycloud because of the growing "closed-ness" of existing social networks. For example Twitter's increasing API contortions about what one...
buddycloud hackathon hangout: →
buddycloud Hackathon: 10-11 November 11am
We're so, so, so, so, very close to releasing the first version of buddycloud. Get a sneek peek at this hackathon. Schedule Saturday 11am: Welcome and intro: What is buddycloud, how it works. 12pm - hacking ideas: Get to know everyone's skills and break into groups to work on different teams Lunchtime: Pizza and drinks. moar hacking: hackety hack Dinner time:moar hacking ...
buddycloud hackathon weekend: 10+11 November
A quick update: the next buddycloud hackathon will be on the 10+11 November in Munich. We'll post more details as details firm up.
Planning the Next buddycloud Hackathon: When?
Seems there's quite the demand for bc hackathons. At the moment we're holding them in Munich, but if you can get enough users together on either side of another scheduled conference or event event, we could hold them in your home city. Please help us plan on the Doodle for the next Munich hackathon Some ideas for the next hackathon: bc-lib.js protocol discussions Firefox OS...
Github updates via buddycloud →
If you're not aware of them github has a set of service hooks that as a repository owner/admin you can utilise in order to push event information (be it commits, pushes, pull requests, branching, etc) to a 3rd party service. There's a whole set of these services that you can already push to from Jenkins CI right through to Yammer, and now buddycloud!
San Francisco update
It's been very busy here. With a nice day off in the San Jose Hills this Saturday. Right now we are working to finish the presentations and demo code ready for the demo-day at Mozilla.  The trip has been a chance to meet and mix with a bunch of smart people at Mozilla and in San Francisco. For example getting UX feedback from the team working on Firefox OS and business advice from the...
Learning By Doing
At its core, buddycloud is a set of protocols and specifications that can be used to create a wide range of familiar web features, such as Twitter feeds, Facebook conversations, and Flickr albums; as well as an unknown and boundless set of additional applications that nobody has thought of yet. The protocols underpinning buddycloud are completely open, and participate in a healthy, ongoing...
Watch
Here we are hitting the stage at TechCrunch Disrupt
Remember AOL Keywords?
Anyone remember "Go to AOL Keyword: Ford"? I try to avoid blowing the buddycloud trumpet (pssst: we're building an open federated/distributed social network) each time there is a future-of-twitter post on hackernews. I can't hold back this time. Twitter works in the same way the old AOL client did: you accessed some message boards and stock prices and film websites using AOL...
buddycloud summit: a list of everything we made
The first buddycloud summit was a great success. It's awesome to see how the buddycloud-community grows and how many people from far and wide contribute to building a new open future using the buddycloud architecture. We say thank you to Sonny from Allicante, Dodo from Dresden, Tuomas from Paris and Andy from Lancashire for joining our Munich crowd - and all the others from all over the world...
The countdown is on!
The first buddycloud summit and hackathon starts in less then 24 hours: A lot of people are going to join us this time - awesome. If you can't make it, you can still drop in remotely. For getting an invitation to our Google hangout, just send an email to donna.smith@buddycloud.com. See you tomorrow!
Great think piece by Dave Cridland on Twitter's... →
buddycloud Summit v1.0 and hackathon
The federated social web continues to change and evolve at an unprecedented pace. buddycloud is leading this revolution. Strategies of building an open ecosystem become more important to users and companies for privacy and data security alike. Social applications no longer just help us - they run our lives. Yet most of us still depend on closed networks and companies potentially expose private...
Watch
Very quick intro to buddycloud screencast
10 mins to run your own buddycloud screencast
Here's a quick video showing how you can have buddycloud up an running in just under ten minutes! During the last hackathon Rene developed the buddycloud-vm project. buddycloud-vm is a bunch of puppet scripts that quickly setup a new buddycloud instance. You can then run this instance: as a virtual machine on your existing server as an EC2 instance on Amazon. The video shows you the...
next buddycloud hackathon date announced: 4-5 Aug...
Thanks for all signing up.  The next hackathon will be in Munich on 4-5 August. We'll keep the planning going in the buddycloud hackathon channel. In the name of science, we'll devote one evening's hacking to researching the Ballmer Peak. The idea being to scientifically find the exact quantities of beer or whiskey and timespan to hit the peak for javascript and java...
The super-ultra-mega-with-chrome-exhaust-pipe...
The buddycloud hackathon is go go go! Thanks to Christian Ehl at Hillert & Co (Hillert helps companies connect with their consumers through awesome mobile apps and social media) for lending us their superb office space. This weekend (30th June and 1 July), we'll be hacking away at the diamond encrusted coal face of the future: We're doing planning in the...
Hackathon planning channel open
We're planning the hackathon in a buddycloud channel: hackathon@topics.buddycloud.org Post your ideas on what we can hack on to make buddycloud better into the channel.
4 tags
50¢ user testing
It's painful to realise the harsh difference between: "I think I know how people use our website" and "Why is he clicking there? Can't he see you have to click on the follow button before you can post? Aaaarch!" User testing is painful: it shows up your false assumptions. The great news is that the sooner you know, the sooner you can begin sanding off the...
buddycloud mid-year hackathon date set
Warm up your cpu cores, make clean, update your libraries, and get ready for the next buddycloud hackerthon: June 30 & July 1st 2012 Munich (and in a Google Hangout near you) We'll announce more details as they come in. But until then get your tickets booked and start thinking about what you want to build. I'm really excited to see everyone soon! And, if you need somewhere to...
buddycloud hackathon date
Choose the date for the next buddycloud hackathon:  http://www.doodle.com/9bt2y6ffaxdpv3qb
Wednesday 30th May, 8pm: Coffeescript+bc code...
Dodo has decreed. Wednesday, 30 May: 8pm is when the coffeescript and buddycloud code walk through shall happen. Meet in the team@topics.buddycloud.org channel to kick things off. The interactive part will happen over Skype or in a Google Hangout.
6 hours to choose when the next bc CoffeeScript...
Dodo  has been running a series of CoffeeScript coding sessions. He gives an intro to CoffeeScript and to buddycloud's codebase. To join, you have 6 hours left to choose a time: http://www.doodle.com/khnd7kwwe5rc65nt We'll then close the poll and annouce a time.
Web FWD: New Team Intro: buddycloud →
I'm really excited about how we can work with Mozilla's excellent team on webFWD and improve buddycloud. Congratulations to the bc team for getting this far. Let's keep making bc awesome for our users. webfwd: As we prepare to launch our newly-structured WebFWD program, we are thrilled to add one more team to the portfolio. Here's buddycloud, in their own words: buddycloud believes...
4 tags
Learn Coffeescript with an expert (and hack on the...
Dodo has kindly offered a repeat of his popular Coffeescript intro course. His session will get you ramped up with the fundamentals of coffeescript and he'll do a code walkthrough of the buddycloud webclient code. To join, add your name to this Doodle form: http://www.doodle.com/khnd7kwwe5rc65nt We'll do this through a Google hangout - so leave your contact details on the Doodle and...
Watch
buddycloud goes west. As far west as possible.
Watch
Thanks for everyone's hard work.
6 tags
Google sponsors two great developers to work on...
buddycloud is really proud to be working with two great students from Google's Summer of Code program. Denis Washington will be building an HTTP API to buddycloud. buddycloud has an event driven architecture (everything in buddycloud is realtime and events can happen on any domain that runs buddycloud). Soon, developers who want to extend buddycloud will benefit from the new HTTP API:...
buddycloud hackathon - postponed
We have an awesome line-up for next weekend's hackathon. but, Two of us can't make it (for very nice reasons). But we still really want to hack with you soon and so we will plan a new hackathon in may. As soon as we have a date, it will be posted here.
Dodo's presentation on Δt (Dynamic Template) -... →
Dynamic template drives your channels. It's a new and quick way to mark up pages and then shove events into them without overloading the browser. More info: http://dodo.github.com/node-dynamictemplate/
1 tag
Next buddycloud hackathon: 28-29 April
After the success of the last buddycloud hackathon, we have another planned: Munich, 28 - 29 April. We will kick off at midday and hack the night away. Where coworkingmunich.de  Sonnenstraße 32 80331 München Map To help us plan numbers, email frontdesk@buddycloud.com and let us know you can make it. In the meantime all buddycloud public events in the buddycloud calendar (Also available in...
buddycloud and Google Summer of Code
We're working with the nice folks at the XSF and with Google's Summer of Code. The GOSC takes smart students that would otherwise flip burgers over the summer and pairs them up with a mentor at buddycloud to build blocks of code that other's can use. If you are interested please introduce yourself on the buddycloud-dev mailing list and we'll get in touch.
Watch
hosted buddycloud makes it easy to get buddycloud on your domain.
1 tag
Watch
A quick buddycloud screencast.
An introduction to coffeescript and XMPP
Due to public demand there will be a further introductory tutorial to coffeescript and the buddycloud webclient by dodo. The tutorial will be held with Skype, starting at 7pm CEST He wants to meet in seehaus@channels.buddycloud.com at 6:45pm CEST to get every interested person on board.
Coffee, Beer & XMPP: and introduction to...
Dodo will give a coffeescript and webclient tutorial tonight. The tutorial will be held with Skype, starting at 7pm GMT He wants to meet in seehaus@channels.buddycloud.com at 6:45pm GMT to get every interested person on board.